After many years of thinking we would like to try diving, Jenny and I finally decided that this was the year (2003) we would just do it. We finished our PADI Open Water certification at a nearby lake in the summer with a local scuba shop, DiveStyle. They were great and I would definitely recommend them.
Wraysbury Lake wasn't a very exciting place to learn. At least it wasn't cold wearing 7mm wet suites but visibility was very low; maybe three metres at best. Nevertheless, learning to dive requires going through a bunch of exercises and it doesn't really matter how interesting the underwater environment is. After all, we didn't want to waste any days of a holiday doing training so we stuck to learning in the UK. The good thing about a lake is that with freshwater you don't have to wear as much weight and the water doesn't sting your eyes.
So after getting certified, we were keen for a "Jacque Cousteau" experience. Watching his documentaries as a child is probably what inspired me the most to do this. The Red Sea was the obvious destination being very highly regarded and not too far away. Deciding exactly what part of the Red Sea turned out to be quite difficult. We eventually settled on Aqaba after lots of research on the Internet. Jenny was also keen to add some sightseeing to our holiday and had a long held desire to see Petra.
So we signed up with Aquatours and left for Amman on Oct 3rd flying Royal Jordanian Airlines out of Heathrow.
Oct 3rd
We arrived at 1 am in the morning and were met by a representative of the tour operator (International Traders). After waiting a while for a visa we were taken to our hotel by our very own driver/guide. Yes, this wasn't a group tour. For the next three days we had a driver/guide who took us around in a private car.
Oct 4th
This was our first visit to the Middle East and one of the first things we discovered was that it wasn't as hot as we expected; somewhere in the mid-twenties celsius. Nevertheless, our first stop after getting money from an ATM was to stock up on bottled water. A bottle of water was a constant companion.
I got to admit I felt pretty excited sitting in the car driving through Amman. We were on the road without children! Adventure travel again! Yippee! Hooray!!
This first day was just a short excursion north of Amman to visit the ruins of Jerash and Ajlun Castle. Jerash was a Roman city and the ruins are well preserved. You can get a very good idea of what the city might once have been like. You can even see ancient cart tracks worn in the stone paving.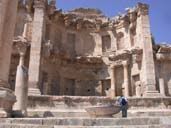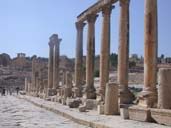 Ajlun Castle was built in the sixth century and later fortified to defend against the Crusaders. Nice enough but not terribly interesting.
On the way back to Amman, the driver kindly took us to a craft and gift shop. You know the deal right? As a tourist, the guide is always keen to take you to craft and gift shops. They say "just look you don't need to buy" but you know there's kick back somewhere. We cordially played the game. At least you get a free cup of Turkish sludge - err, "coffee" - or tea.
Actually, I really like Turkish coffee but you have to be careful not to drink the bottom layer which really is sludge. If you forget, like I did, it feels like a dollop of mud in your mouth.
The first question at a shop is always "Where are you from?" As we learned in Turkey many years ago, this question and your answer is of utmost importance. Based on where you're from, they figure out what you can afford and what their price will be. It's value-based marketing in a pure form. I generally keep my mouth shut and Jenny tells them she's from Malaysia. Sometimes I play the "guess where I'm from game". That's how I found out that I can pass for an Egyptian! However, I suspect Jordanians don't hold Egyptians in high regard.
That evening back in Amman we had dinner at a fancy Arab place called Reem al-Bawadi. The Rough Guide To Jordan describes it as a "delightfully over-the-top kitsch-laden affair devoted to showy power-dining (Colonel Gaddafi has been known to drop by), complete with tent, fake castle, fountains, palm trees and neon lights." Yep, that's a pretty accurate description. It was enjoyable none-the-less.
Oct 5th
We checked out of the hotel and drove south to the Baptism Site of Jesus. This wasn't originally part of the tour but I managed to get our driver to squeeze it in at the last minute.

The biblical site of Bethany-beyond-the-Jordan was only discovered in 1994 after Jordan demilitarized the area, Excavation work is still ongoing. They've uncovered eleven Byzantine churches, ancient baptism pools and other evidence which strongly confirms its identity. The Pope has recognized the site and even held a mass there in 2000.
I was surprised to find that we were the only visitors when we arrived. The site is still very new and not developed. There's plenty of security with fences, guards and checkpoints to remind you that the Jordan River demarks the border with Israel. In the distance you can see Jericho over on the West Bank through the haze. Wow Jericho! It's thought that it might be the oldest city in the world founded between 6000 BC and 8000 BC.
Unfortunately, the springs in the area are dry most of the year except for the middle of winter. We visited the dried up spring where John the Baptist allegedly practiced and the spot where Jesus was baptised in the Jordan (picture). At the very least, the area has a fantastically strong sense of place.
There was a lot to do on this day, so we soon had to move on.
We drove to the Dead Sea Spa Resort Hotel and changed into our swim things. As you probably know, the Dead Sea is the lowest point on the earth at 400m below sea level and is famous for its incredible salinity. Whereas the ocean is 3% salt, the Dead Sea is about 30% salt.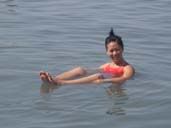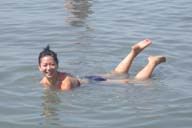 It was fantastic floating about in it. You can float vertically with no effort and the water comes only midway up your chest. We also smeared each other with the mud which is supposed to be a very good skin treatment. Personally, I suspect there's a heck of a lot of agricultural pollutants in it but I buried that thought. The only thing to be very careful of is not to splash water in your eyes since it stings terribly. Any cuts on your body will also sting.
After washing all the mud off, we enjoyed a short swim in the hotel swimming pool before being whisked away again.
Next stop was Mt. Nebo. This is the mountain from where Moses saw the Promised Land and where he subsequently died. There's a church here with nice mosaics but the location is mainly interesting for the views. The land doesn't look very promising now. Dry and parched.
After a buffet lunch, we were taken to a craft shop. Here we go again! Jenny got serious about carpets and some intense selling ensured. Jenny got more and more flustered with their pressure tactics. I find you just have to stay firm, polite and keep a good sense of humour. Our best offer and their best price didn't meet up so we managed to get away without buying anything.
Next stop was St George's Church in Madaba. It's famous for a large 6th century mosaic floor which depicts a map of the Middle East. It's the first known map of the region.
We then drove for about two hours south along the Desert Highway to Petra. The route is largely parallel to the Hejaz Railway which is the route Lawrence of Arabia followed during the Arab Revolt. As we had been driving south, the landscape was getting more and more barren. We were now into real desert.
Arriving at Petra, we checked into the Crown Plaza Hotel and followed our driver to the Sandstone Restaurant for dinner listening to a live performance by local Arab musicians. Honestly, I consider myself pretty open to world music but it does sound like a cat being tortured sometimes (maybe that noise was coming from the kitchen?) It's not really what one would call dinner music! I do like the sound of the Oud though.
Oct 6th
The joys of travel also come with the discomforts of travel. I can highly recommend Imodium Plus. It saved the day.
A new guide met us early in the morning to take us on our tour of Petra. We wanted to see it before the crowds arrived and at 8 am we were mostly by ourselves. While the short horse ride to the entrance of a narrow gorge known as The Siq was unnecessary, the walk through The Siq itself was breathtaking. Beautiful and hauntingly quiet. The pictures can't convey all the colours in the rock.
Petra is fascinating and there's no point of me writing an essay about it here. You can find other descriptions on the internet. It certainly lived up to our expectations.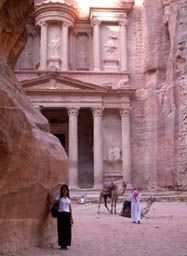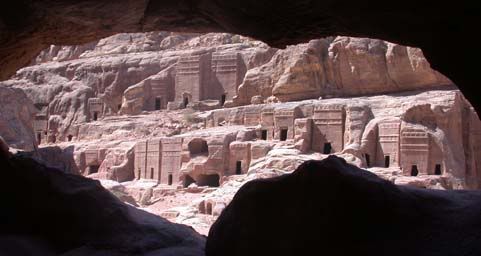 It would be worth spending a couple of days exploring the area but by noon, we needed to get back to the hotel. By then, large tourist groups were arriving and I was exhausted and not feeling very well. A sympathetic waiter at the hotel prescribed sage tea which seemed to help.
Next, we barreled down the highway for two hours to Aqaba racing across the desert dodging convoys of heavy trucks. It turns out that Aqaba is the main port for shipping goods in and out of Iraq and the route is very busy.
As we got out of the car in Aqaba, the heat hit us. It was much hotter; probably around 30 degrees. The Golden Tulip Hotel was nothing glamorous but we were given a large corner room that we would call home for the next week. Over that week, we found the staff friendly and quick to respond to anything we needed (we locked ourselves out of our room three times). I should have suggested that they get rid of the black velvet painting in the lobby!
Oct 7th
We got up early in nervous anticipation of our first day of diving.
The Dive Aqaba dive shop is just across the road from the Golden Tulip. We were greeted enthusiastically and quickly got our scuba rentals sorted out. We each chose 5 mm full one piece Marbella wet suits. One of the reasons we chose Dive Aqaba is that they're a relatively new outfit and all the equipment is still quite new.
At 9:50, we boarded a small bus and in five minutes we were at the harbour getting on a small boat that then ferried us to a larger dive boat.
All the dive sites are south of Aqaba. It took about an hour to arrive at a site called the "Japanese Gardens" which we were assured was a nice easy dive for beginners. Of course, we were a bit nervous but we kitted up and jumped off the boat following Ash, our guide and Dive Master. We bobbed around the surface working hard to relax and slow our breathing down. At least the water was warm at 25 degrees.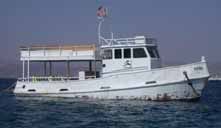 It turned out that we were a bit underweighted on the first dive so the descent took a bit of work. The visibility was fantastic; maybe 25 or 30 meters. There was no descent line so it was rather tricky figuring out how fast we descended but we eventually got down to 7 meters. A lot of our attention was focused on getting the mechanics right such as breathing, buoyancy control and finning. I had this overwhelming feeling of swimming in a huge aquarium; plenty of coral, small fish, Cornet fish and a giant Moray eel. Fantastic!
The first dive lasted only 35 minutes although it seemed longer. We were both elated that we had pulled it off successfully. An hour later we did a second dive with a different guide, Amer (pronouced Amir), but in a different part of the same site called "Seven Sisters and The Tank". Again, much of our attention was spent working on the mechanics. I was still underweighted. There were bigger coral formations and a huge variety of fish: Puffer, Angel, Olive Dotty Back, Anthias, Clown, Parrot and plenty more that I never learned the name of. "The Tank" turned out to be a submerged M40 anti-aircraft tracked vehicle. I guess that qualifies as our first wreck dive?
My air tank got too empty and I eventually lost neutral bouyancy and surfaced with only 15 bar left. Not good. We were using 12 litre aluminium tanks that were usually filled to 200 bar although they were sometimes short by 10 or 20 bar. As a beginner, you use up air more quickly but you're supposed to exit with about 50 bar in reserve as a safety margin.
Back at the dive shop, I bought a book on fish identification so I could say more than "did you see that big fish with the stripes?"
That night, we celebrated our first day of diving with a grilled fish dinner at a restaurant called Ali Baba. I don't think Jenny sees fish; she sees seafood.
Oct 8th
The next four days followed a similiar routine as our first day with a morning dive and an afternoon dive.
Unfortunately, we aborted the morning dive at Black Rock because Jenny couldn't equalise the pressure in her ears. She was really disappointed and frustrated.
In the afternoon, Jenny was feeling nauseous and still couldn't clear her ears so I buddied up with another diver, Patrick from Switzerland. We dived a deeper part of the Japanese Gardens following a slope down to 18 meters. I was diving with more weight on my belt and my buoyancy control was getting better. It was a great dive. I found I could spend more attention on where I was rather than working on the mechanics of diving.
Again, I exited with only 15 bar of air left after 37 minutes. Still not good.
That night Ash held a BBQ on the rooftop of his apartment building. Ash is a real character. He's also the Managing Director of Dive Aqaba. Although Jordanian, he sounds and jokes just like a British lad and obviously likes a good party. He did a great job of making sure everyone was enjoying themselves. We got to know the other people on the dive boat and heard lots of diving stories.
Oct 9th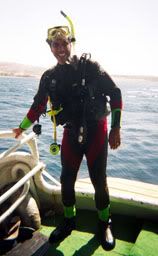 The morning dive was at King Abdullah Reef but it wasn't as good as the previous day. Smaller coral structures on a gentle slope. Jenny was fine again.
In the afternoon, we dived the Japanese Gardens again this time exploring a pinnacle that was surrounded by fish. Absolutely beautiful! Also saw a Scorpion fish and a Lion fish too. Jenny lost a fin at one point but recovered ok.
That night we enjoyed the view of Aqaba from the bar at the Royal Jordanian Yacht Club before wandering around town. Aqaba has a great promenade where lots of people hang out in the evening. It's pretty lively and the shops stay open late. It's a nice town; not too big and not too small. We explored a great little food market buying some fruit and then had dinner at a local diner.
We then met up with rest of dive group at an ice cream parlour. Nice thing about diving is that it's a very social activity. You meet lots of people.
Oct 10th
For the morning dive we were briefed that we were going dive the Power Station. Everyone seemed more serious. It was a deep wall dive down to 30 meters and we were told we might see sharks. Gulp!
Jenny was terrified beyond consolation while putting on her wet suite but was determined not to be left behind. We were assured that if we were uncomfortable, we could stay at about 20 meters. If you dive deeper than 30 meters, you need to worry about decompression stops so I was inclined to go no deeper than 25 meters. To be fair, they would accommodate us if we didn't want to dive the wall, but there was also a great sense of thrill to try it.
It was awesome! It's like flying over the top of a cliff but below you and in front of you is just an inky dark blue. I read later it drops down to 200 meters. And while you hover above this void, you just wonder what might be out there. Best not to dwell on that thought! I find its best not to let the imagination wander when diving. We followed the wall descending to 26 meters. The surface looked a long way away. No sharks appeared. That was fine by me.
We ascended and explored the top of the cliff. I was the first person to notice a sea turtle swimming by. Wow! I managed to get Jenny's attention and pointed the turtle out before swimming over to one of our companion divers nearby who had a video camera so she could film it.
Our afternoon dive was at Ferris Bay and was much more relaxed. Max depth was 21 meters. With fear firmly conquered, we felt brave enough to sign-up for the night dive that evening.
Back onshore, we had a light dinner of lamb shewarmas for dinner. Cost less than a fiver for both of us!
That evening, we got on the bus as usual but this time we drove down the coast to the dive site at Wreck Reef. This was going to be a shore-based dive which was a great relief since a night descent in deep water would have been freaky.
A party of more advanced divers went out to the wreck of a Lebanese cargo ship while our group was just going to do a slow tour of the reef. After a briefing on how to use the flashlights and the dive plan, we lumbered down to the shore with all our dive equipment on.
Shore-based diving is awkward to say the least! The hardest bit is getting your fins on while waist deep in the water.
The dive was interesting but not spectacular. The flashlights really bring out the reds in the fish. We did see a Spanish Dancer (kind of a large sea slug) and a Giant Lobster named Fred. The coolest thing was when we turned all the lights off. For one, there was a full moon and you could see the reef quite well by moonlight. Looking up, you could see the moon reflecting through the waves on the surface. Best of all, we had great fun shaking up the phosphorescence in the water. It's like shooting sparks from your hand.
This was a great day. I could see how diving could get addictive!
Oct 11th
It was Saturday and our last day of diving. There were much fewer people on the boat. I had bought an underwater disposable camera and was hoping to take some pictures. Our first dive at Oliver's Canyon and The Tank provided a good opportunity. Here's a portrait of Jenny and her swimming around the tank.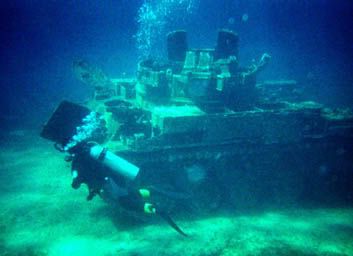 For our last dive, we went to Gorgon One and the Three Pinnacles. Gorgon One is a fan like coral structure but the pinnacles blew me away. The largest pinnacle was surrounded by schools of fish. A large school of motionless Jack fish hovered nearby while a ribbon of Fusileers weaved around. The pinnacle itself was engulfed in a cloud of orange Anthias and I managed to hover among them completely surrounded.
This last dive involved a lot of finning but we still managed to stay down for 52 minutes at a maximum depth of 15 meters with well controled bouyancy. After five days, I can say we both felt much more comfortable and confident about diving. The dive boat returned to Aqaba just as the sunset for a perfect ending to the day.
That evening, we did some souvenir shopping and then went once again to Ash's place for dinner and a party.
Oct 12th
You're not supposed to dive within 24 hours of a flight so for our last day we had arranged to go on a tour of Wadi Rum.
We joined six other Brits in two 4x4 trucks and drove for about an hour before we left the tarmac and headed out into the desert. Great scenery and not nearly as hot as I was expecting.
We eventually arrived at "Captain's Desert Camp". Yes, this wasn't too authentic and felt very touristy but we were expecting that. We were the only people there. We had a late lunch in Bedouin tents to live Arab music. I even got to play around with an Oud.
The highlight came at five o'clock we all got on camels and were led by local Bedouins out into the desert. We eventually got to a rocky promontory where we got off and climbed up the rocks to watch the sun slowly set over the desert.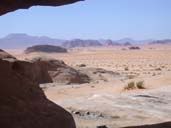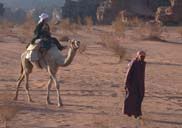 Night fell quickly and it was dark by the time we had ridden back to the camp. A huge bonfire had been lit and the camp was illuminated by dozens of candles in paper bags. Very pretty. We sat around a table outside watching the stars come out. There's not much light pollution so the Milky Way put on a stupendous show as it got darker and darker.
I'm not a smoker but I couldn't resist the opportunity to try out a hubbly bubbly (hookah) with Apple flavoured tobacco. Nice! The smoke is cool and fruity.
Jenny and I walked a little outside of the camp and watched the moonrise over the desert. Beautiful.
The rest of the Brits were staying the night but we had to get back to Aqaba and start packing for the flight the next day. I would have liked to enjoy the evening for many more hours but sadly, we had to go.
Oct 13th
The flights from Aqaba to Amman and back to London went exceptionally smooth. Representatives from International Traders helped us all the way.
Home Again
I really enjoyed this trip to Jordan. The people of Jordan are friendly and personable and there's plenty of interesting sites to see and things to do. Most important, we accomplished our goal of diving in the Red Sea and got to do a bit of adventure travel. It was so nice not dragging children about!
We're now left with one burning question. Where to dive next?